Bring Your Web Hosting Service to a Higher Level! Differentiate yourself by Providing RvSiteBuilder Pro as a value added service to your customers. SkyNetHosting.Net offers unlimited Site Builder software with every reseller account, making your clients happier with higher profits and it comes absolutely FREE! Click Here to Signup for a Reseller Account and get RvSite Builder For FREE!
Build a professional website in less than 15 minutes with RvSiteBuilder.
RvSiteBuilder Pro is the perfect tool for building a professional looking website quickly, without investing in a webmaster or an expensive web development software package. Choose from a wide variety of professionally designed templates to get your site up within minutes.
RvSiteBuilderPro is an advanced website builder. Your customers can easily create websites through the step by step navigator from creating the project, add the company name, web site title, upload logo, select the templates, tweak the template styles, choose the preferred navigator, create and manage page structure, edit the page with WYSIWYG html editor, add extra component, preview and publish the website. It is packed with colorful stylish templates, page layout and navigator styles.
Core Features
Fully integrated with cPanel - Start building your site with just one click from cPanel.
Fully integrated with WHM - Resellers can manage client access to RvSiteBuilder from WHM.
Multi-lingual support - Users can create sites in any languages that they prefer.
New templates every month - Over 15 new professional templates added every month.
Customizable Templates - You can download templates to your PC, modify it and re-upload to the system.
Try Before Buy Module - Allow your clients to try it, test it in action. If they like it, they have an option to buy the hosting account.
Professional website templates - Over 935 professional website templates and 4000+ Web Site Designs.
Tryout RvSiteBuilder Demo! this wizard-like interface is the easiest way for customers to create, modify and update their own web sites eliminating the need for technical HTML knowledge.
Other Features
Royalty free website templates.
Standard templates.
Flash templates.
3 color schemes and 2 image styles for each template.
New website templates on monthly basis.
Two tone color, Illustrate, flash website template style.
Switchable navigator among 22 navigator styles.
HTML layout template
XHTML 1.0 Transitional compliance
Free icon and buttons in Image Library
Library with hundreds of images - mix images with Template Layout as whatever you want.
Free banners in image Library
Extra Component Features
Photo album
Form-Mail online form and online form editor
Online counter
Custom page title
Custom META tag; META keywords, META description
Page effect
Guest book
Online flash editor
Ads News
There is No Need to Download RvSiteBuilder to Your PC. Everything is Pre-install for you on our servers. Your clients can simply click on the Site Builder Icon From cPanel and start designing their website.

Move your company logo, name or slogan's position instead of disabling them. Now you can freely move them using the drag-and-drop technique style.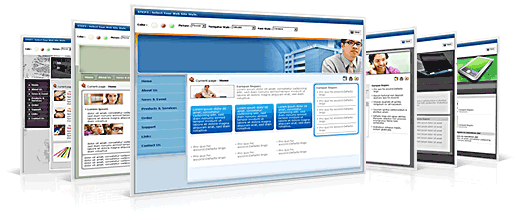 Now You can be a professional web designer with a minimum amount of knowledge ... Add a Reseller Plan to start your own web design or hosting company - total cost is ONLY $1.00!